Perc Testing & Septic System Design
---
SERVING SUMMIT, WASATCH AND SALT LAKE COUNTIES, INCLUDING PARK CITY, KAMAS, HEBER, SALT LAKE CITY & SURROUNDING AREAS
---
Soil evaluation, perc testing, and septic system design for raw land, subdivision lots, tear-downs, expansions
Investigation of failed septic systems
Conventional on-site wastewater systems
Alternative on-site wastewater systems


Effluent pumps; pressure distribution
Mounds, sand filters, on-slope leach fields
Soil replacement
Groundwater diversion
Off-lot effluent disposal


Secondary through quaternary treatment
Nitrogen and phosphorous reduction


Large on-site wastewater systems; restaurants / commercial; grease traps
Multi-family & multi-lot shared systems
System operation and maintenance including user education, inspections, effluent quality sampling and testing, process train adjustment
---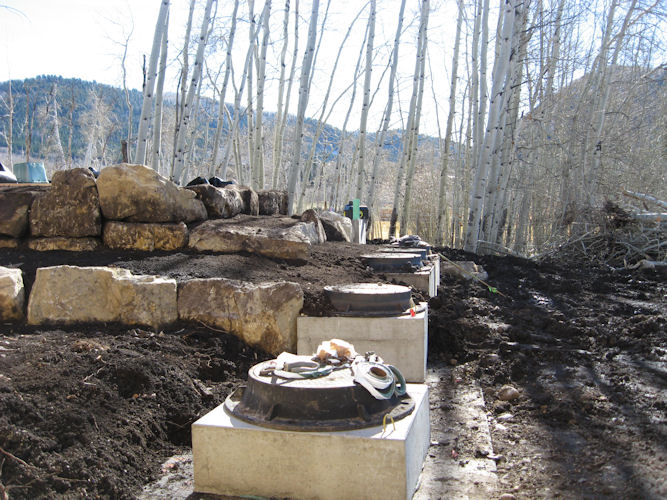 Perc Testing & Septic System FAQs
GIVEN THE INFINITE VARIABILITY IN NATURE, EACH SITE IS UNIQUE. CONTACT US FOR ANSWERS THAT WILL ADDRESS YOUR PARTICULAR SITUATION.
My neighbor put his own system in the ground 35 years ago, and has never had a problem. Why do I need to hire a system designer and a contractor?...my lot is right next door!
I found what looks like a screamin' deal on a view lot with trees. The current owner says she already had it perc tested, and provided documentation to that effect. Should I go for it?
I heard you don't need a perc test in certain cases these days. Is this true?
I'll need to install a septic system and a well for potable water on my one-acre lot. Do I have enough space?
Can I use my septic system effluent to irrigate?
My lot was platted 30 years ago. Why have I been told I have to install a more expensive "alternative" system? How can I qualify for a "conventional" system?
I've heard I should steer clear of a septic system that requires a pump. Should I be concerned?
Found what appears to be a dream lot on MLS ... I want to locate my new home to optimize view, but I'm told the soils evaluation dictates the leach field be located 1,700 feet away, and uphill! Is this even feasible?
Can I locate my driveway over my leach field?